Humans get bored really easily don't you think? One minute we are all about scaling walls and the next we are game for some crossfit. This is probably why the fitness world has to come up with new, unique and sometimes just plain weird workouts every year to keep you wanting and moving more. We dug around and found 16 weird workouts that might make its way to Malaysia someday which could rock your fitness boat if you're getting bored of your usual workout routine:
1. Backwards Running
Running forward is getting too clichéd so it's time to do it backwards. Also known as retro running, it's said to be a great way to cool down, improve your balance and improve your neuromuscular efficiency. This workout claims to put less stress on your knees and helps to keep your posture upright too. But make sure you are at a safe place before starting your run to avoid any accidents.
HighHeel Lunches – This will give an extra punch at your calves
PushDog – Perfect for gaining quicker power at your chest
HandMarathon – the usual is to easy for some…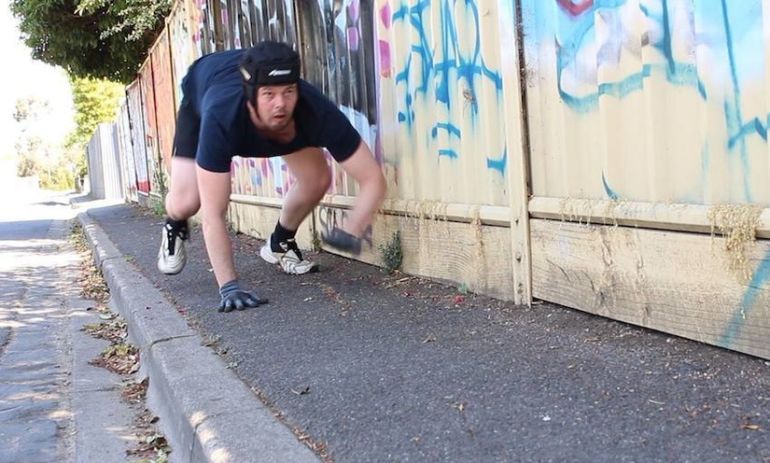 YogaDog – Very popular in the United States 
Why not bring your canine companion to your next yoga session and practice some traditional hatha yoga moves together [3]? Though this workout trend is not in Malaysia yet, it's taking UK by storm since it was introduced by yoga instructor, Mahny Djahanguiri. Doga might help improve the harmony and synchronization of energy flow between the you and your dog
DrumFit – Just rock your fat way
All you need are some drumsticks in different weights to pound away your calories during a drumming workout class. You will be pounding your drumsticks on floors and exercise balls as you perform aerobic and dance moves in different speed intervals. Who knew that sweating like a rockstar is actually good for you?
Cardio with Babies
Got some babies to care for and won't be able to squeeze in a workout session? You can enroll yourself in Baby Bootcamp where you can bring your babies along to assist in your workouts and save money on daycare too. In Baby Bootcamp, you will be doing high-intensity, stroller-based moves that gets you sweating but before that, you have to make you sure your babies are comfortable and have some toys to play with while you are squatting away
Kangeroo Jumping
Put on your Kangoo shoes and dance to the music as the trainer guides you to some choreographed dancing, jumping and running moves for 45 minutes [15]. This high intensity cardio workout is said to burn as many calories as running while putting less strain on your joints. But would you hop around the streets in your Kangoo shoes?
Comments
comments